No God, No Master 10th Anniversary Screening To Open DFF 2023
Writer & director Terry Green to take part in Q&A after screening
Note: Regrettably, the ongoing strike by the Screen Actors Guild and its sister union the American Federation of Television & Radio Artists (SAG/AFTRA) prevent David Strathairn from promoting past work that was produced under SAG's low budget production contract, which unfortunately includes this year's opening night feature film NO GOD, NO MASTER. While expressing his support of the film, Mr. Strathairn has been advised to stand in solidarity with fellow union members until the strike is settled. Writer/Director Terry Green will be in attendance and will participate in a Q&A following the screening.
A special 10th anniversary screening of No God, No Master will open the 14th edition of the Driftless Film Festival, Wednesday night Nov. 1, at the Mineral Point Opera House.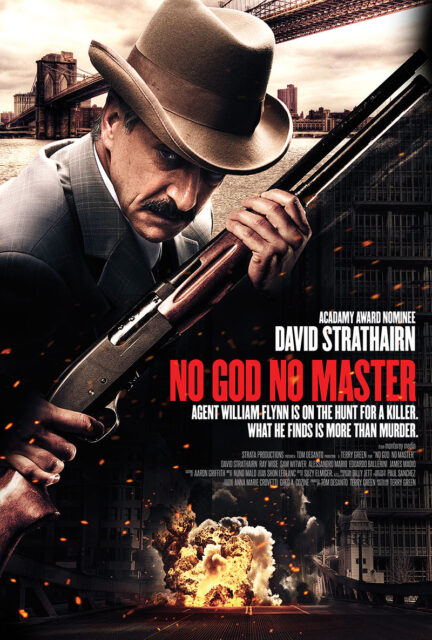 Writer and director Terry Green will take part in a special Q&A with other crewmembers after the screening. The film also was the opening feature of the 2013 Driftless Film Festival.
Festival passes are on sale now at driftlessfilmfestival.com/tickets, and can be purchased through Eventbrite. Cost for the festival pass is $65, and it guarantees admission to all screenings, as well as the opening and closing night parties. Tickets for single screenings are also on sale.
When a series of package bombs detonate on the doorsteps of prominent politicians and businessmen in summer 1919, U.S. Bureau of Investigation Agent William Flynn (Strathairn) is assigned the task of finding those responsible. He becomes immersed in an investigation that uncovers an anarchist plot to destroy democracy.
Green, a resident of Mineral Point who wrote, produced, and directed No God, No Master, remains proud of his vision a decade after it screened.
"I attempted to make a movie about a journey into the culture of anarchism and the overreach of government," Green said. "No God, No Master is a timely drama with resounding parallels to today's politics and many of the divisive issues we face as Americans. Who's pulling the strings and what price are we willing to pay for freedom? What happens when the discontented begin to organize and take action? Is violence ever justifiable? These are a few of the questions the film asks."
Once a year, the Driftless Film Festival brings together the best of new independent cinema with the landscape, artistic energy, and local atmosphere of the Driftless Area of Southwest Wisconsin. Founded in 2009 by filmmakers Darren Burrows and Nicholas Langholff, DFF was born of a love for independent films, an appreciation of the unusual region, and the joy of spending a weekend immersed in the charm of Mineral Point's galleries, shops, restaurants, and bars. It is this delightful marriage of place and cinematic story that is the core of the DFF vision today.
DFF screens each of its films in the Mineral Point Opera House. Beautifully restored in 2009, the theatre retains the atmosphere of its origins as a 1915 vaudeville house. Brought to life by film screenings and live performances year round, the Opera House is both an elegant testament to Mineral Point's passion for preservation and a showcase space for some of the best entertainment in the region.